I too used to think that jumpers were for for Amish ladies & girls, grannies who wear sock with dresses and the 6 child minimum mini-van crew. But I've been kinda drawn to the jumperish things from the latest pattern offerings I realized, I'm a jumper fan.
(* are the ones I own)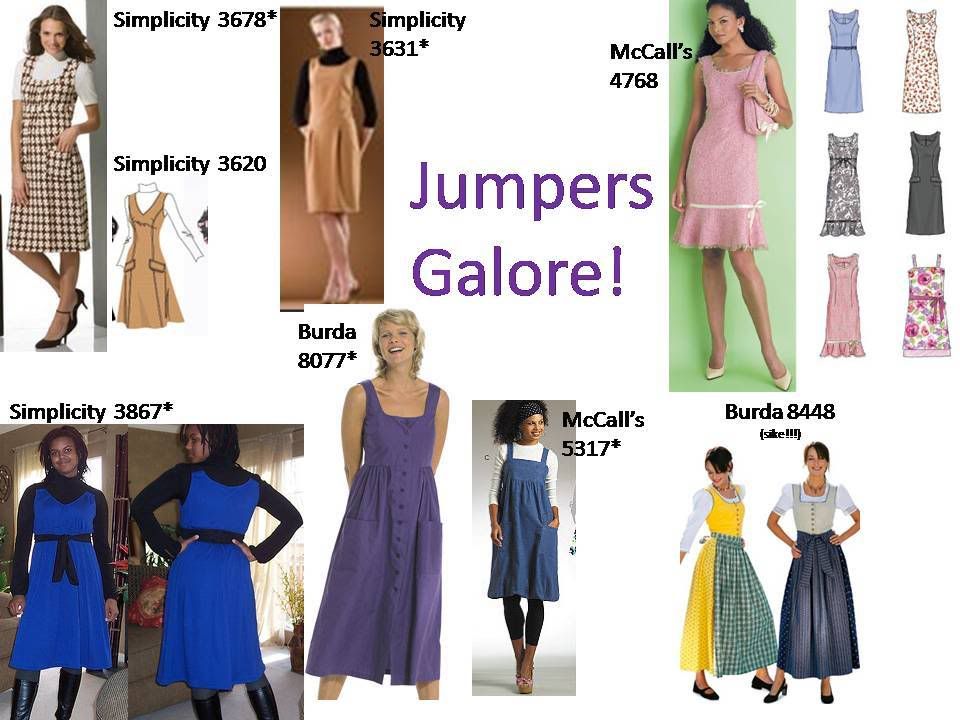 Inspired by the
sewingfanatic
I took a stroll trough my pattern collection, and I have a few. So I made one this weekend.
Review
(xposted on PR)
: McCall's 5315

Pattern Description: Empire waist dress has lined bodice, inverted pleats and back slit; dress A has shoulder straps; dress B has grosgrain ribbon trimmed shoulder straps and contrast bodice overlay; dress C has halter neck; includes sepa
rate pattern pieces for A/B, C and D cup sizes.

Pattern Sizing: 4-22 w/B, C, D cup adjustment. I made a 14 w/ C cup bodice

Did it look like the photo/drawing on the pattern envelope once you were done sewing with it? yes, except shorter. Here's the back.


I know I look a lil crazy w/ my pants around my ankles. But hey, that's how I do.



Were the instructions easy to follow? did not use them since I have made this type of garment before (for kiddo) but I briefly referred to the pictures which were helpful

What did you particularly like or dislike about the pattern? I like the fact that there were pieces for different cup sizes, I didn't realize it until I cut out the pattern pieces. All the pieces fit together perfectly. I did not like the length of the skirt, otherwise it's a cute design. I should have added pockets, now that I think about it.

Fabric Used:$1 Walmart poly print from stash, self lined

Pattern Alterations or any design changes you made: shortened the skirt by 4 inches. It was easy to modify, there were length adjustment markings on the skirt piece in two places which I found interesting. I just used the bottom one.

Would you sew it again? Would you recommend it to others? Not sure if I'll make it again, but it's a cute dress and can be worn as a jumper.

Conclusion cool, but w/ pockets it'd be cooler.
Guess I'll hafta get a mini-van until I become a Grandma and move to PA.