I've been getting
B

urda

W

orld

O

f

F

ashion
magazine off & on since 2005. I was always too scared to try any of the patterns since they look like a
military map
. Talk about brain pain.
Here's my first go at a pattern,
7-2007-101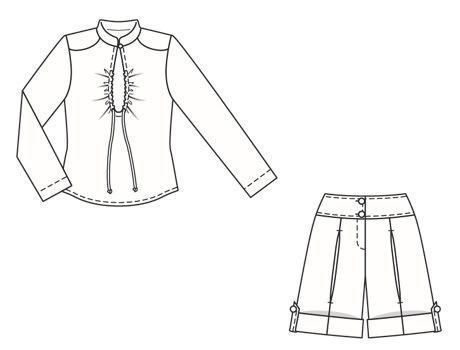 photos from www.burdamode.com
I am always so inspired and awestruck by
Cidell's
and
Assorted Notion's
BWOF creations! To me they are the
Burda Goddesses
since they always seem to make my favorite looks from the mag.
They look straight off the runway, or yet,
better
than off the runway, because these are
real women
with
real bodies
making and wearing the clothes. Needless to say I wanna be like them when my sewing grows up.
Here's my little meager attempt:
(click photos for a bigger view)



Size:
40/14
Pattern Critique:
Besides the pattern sheet looking like calculus, the instructions were even worse. Very vague. It wasn't that bad for me because I usually just ignore the instructions anyway. This pattern was only five pieces, plus a facing & drawstrings. My only issue was knowing which pieces to interface so I just did my own things and interfaced both collar pieces.
With BWOF, you have to trace out & mark the pattern pieces (be careful trace out the right pieces and the right size), add the seam allowance, draft your own bias strips & drawstrings (they give you the measurements.)
The thing about BWOF is that they are so fashion forward, that all the extra work & studying you put into it is so worth it to me.
I look forward to doing more. I'm taking my time though.
Fabric:
poly sheer clearance fabric from JoAnn's.
Modifications:
I did none, this was my muslin. As you can see it's not finished or hemmed, I didn't add a button loop (I'm gonna do a hook & eye) to the neckline and I didn't do the drawstrings - ran out of fabric. (that's why it's on the dressform)
I need to change the hem and sleeve allowance to 1.5 inches, I like long sleeves.
Results:
I failed to transfer the markings for the shoulder seam so my sleeves are off center. Like way off. Overall, I think I'm ok with it. I'm scanning my stash now so I can make this for real.