Apparently John Paul Gaultier is mine because I was about to
die
lie
fry
cry
(?)
for
this dress
: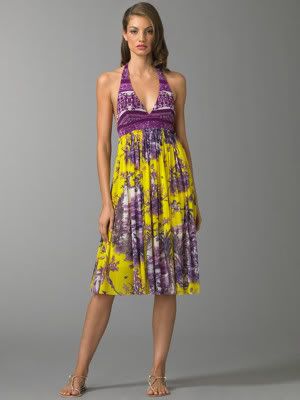 But then not really because his dress is $530 and mine cost less than $25 for pattern, fabric, elastic & thread. Ha! So maybe I'm
his
daddy.
Review:


Simplicity 3503
Size:
14
Pattern Critique:
Compared to the JPG dress a lot more modest in the chest and back area - lol! It sews up quick and easy. I cut it out Wednesday night and sewed it up Friday morning

(thank goodness for snow days!!!)

, there are pleats and gathering on the bodice and skirt but otherwise not much detailing.

I like that it has pockets, which are so small and really unnecessary,

they add hip bulk

(which is not really an issue for hip-less me)

they just look cool.

I love the overall style!

I am SO READY for warm weather.
Fabric:
Swimsuit knits from Hancock's. $7.99/yd
Modifications:
I left it long, beware,
i
t is really long
so if you are tall you may not have to add much length. I am 5'6 and it was dragging the floor until I cut a few inches off.
I'm thinking it looks better shorter. I'm not sure though. Let me know what you think.
I made the bodice elastic shorter, and I need to take it in more, along with the midriff. I think because the fabric is so heavy, it droops in the back
If my back was cute
(and narrow)
enough to show I
would
have,
left off the back bodice piece

lengthened the midriff piece to make a tie
added the elastic along to top of the skirt to make it look like this:
Results:
The only negative is that the pockets add bulk at the hip. If I get a chance to make it again I'll leave them off.



Halter dresses will never go out of style.

I think they look great on all shapes/sizes. This one is perfect to make over and over for summer because it is quick and the fabric recommended travels well.


P.S. Check out
Lina's new CD
in the mean time. She's also been my daddy for the last week or so.