(In no particular order)

These are the tools I use for virtually every sewing project.
Sharp cutters
I MUST have an extra sharp rotary blade & extra sharp scissors when cutting. I love it then fabric slices like hot butter and I love the sound of the scissor blades rubbing & snapping together. Gives me a chill. (for real!!) To keep blades sharp longer I have a Dritz rotary blade sharpener (it really works) and I keep my scissors clean, stored in the original case and use them for fabric only - not even interfacing.
Self healing cutting mat
I use it of course for rotary cutting but also to measure and mark fabric when cutting straight lines & also to match hem lengths. The grid is pretty accurate. To maintain my mat sand it lightly with a fine grain sanding sponge.
Dritz Measuring Gauge
I use this to check my seam allowances, verify seam allowance from needle position, and to mark hems on small areas (sleeves, baby clothes)
www.acmoore.com

Dritz EZY-HEM
I cannot make hems without it.
You can make straight & curved hems. I lost this once and I REFUSED to sew until I replaced it.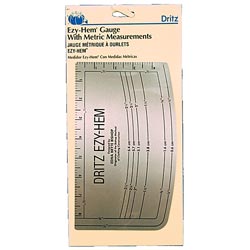 http://www.sewingmachinesplus.com

Quilters Rulers
Indispensable tools for adding length to patterns & cutting bindings. I love that they come in a variety of lengths, they are clear & easy to read. I have quite a few in my tool arsenal but the ones I use most frequently are June Tailor Binding Buddy,
Wrights Easy Rule II 6.5"x24"
and Wrights Easy Rule Jr 3.5" x 9.5"
crayola washable markers
I know we are supposed to use tailor's chalk or water soluble pens but I don't like them. I need a dark mark that doesn't run the risk of fading or being rubbed off until I wash it. I mainly sew with machine washables so I haven't had any problems.
Dritz transfer paper & tracing wheel
for marking darts and to mark dark fabrics I use this
Pressing
I have a full size iron (
Rowenta Effective
) and a mini steam iron
Black & Decker Gizmo
). I use them both a lot, but for big jobs I use the full size.
Pins
I confess I don't like to baste (hated it) I will use 500 pins before I machine and
don't even ask me to hand baste
. They are convenient & I just pull them out as I sew. My only gripe is that they end up EVERYWHERE so I need a magnetic pin holder. I'll get it next sale.
Apron w/ pockets
If I don't wear my apron, I will lose my seam ripper, my scissors, my seam guide & my sanity. Also prevents me from being COVERED in thread scraps and fabric fuzzies. I tend to lay things anywhere. I have lost so many things never to be found again and I don't even have that much room in my area or my house. I SWEAR there must be a notion gremlin who comes and steals your tools when you turn away for a split second.
Simplicity 5525
was one of my first back to sewing projects a few years ago.
(p.s. didn't feel like taking a bunch of pics, so I found most of these online.)