Hiyah! Been a minute, no major big deals going on, I'm cool. I have been addicted to the
Lifetime Movie Network
lately though, they are crazy!!!! I had to turn off the tv for a few days to withdraw so I'm back.
I did manage to stitch a few new items here and there during the last coupla weeks.
Here is my Memorial weekend dress. I dub it
the cookout dress
cause it's flowery, jewely and summery and full to hide bbq tummy.
McCall's 5620
I also whipped up a stashbuster
New Look 6784
and I attempted
Vogue 8392
. another stashbuster. I read that it would be ok not to finish off the raw edges of the sleeve since they were cut on the bias.
not
. I'm debating on whether to finish it wiht a rolled edge. I'd rather not and just make this again in a knit but I'm not allowed to buy any more fabric right now.
Check this out. I prolly need a late pass for this but...
Anne Klein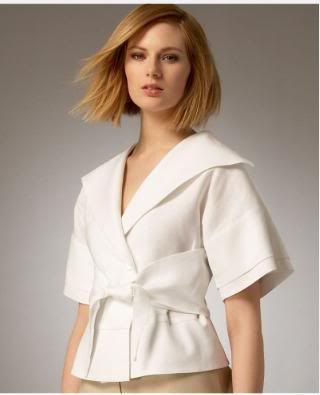 Butterick 5186
So who was first with the design?