A while back I posted some
inspirational knit dresses.
Well I finished my first one!
Simplicity 4577
Size:
14
Pattern Critique:
The pattern looks pretty easy to follow from my scan. I only used the bodice construction part tho. I wouldn't recommend to someone w/ little experience. There is a lot of skipping around as usual w/ Simplicity instructions and some intermediate sewing terms used.
Fabric:
tan rayon/lycra jersey from Hancock, it was about $7-8/yd
Modifications:
I only used the front & back skirt pieces, the front and back bodice pieces and the neck tie to get a look similar to this dress from
Newport News
: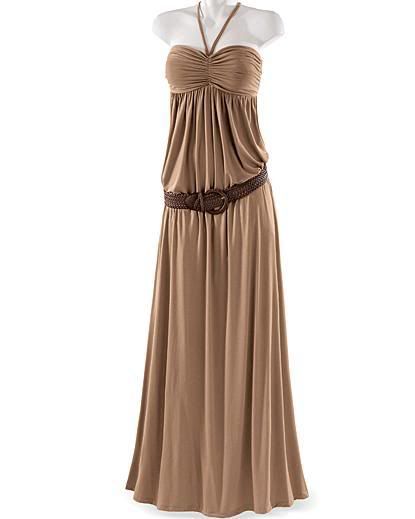 The bodice is self lined. I added some width to the front skirt so I could gather, and I cut the back pieces on the fold, and encased elastic across the top of the back bodice. The back looks fine, but it would look better w/ a center back seam.
( I have a pic but my pantyline is showing, so no-go)


If I had used the bodice overlay piece for shirring it would have looked more exact, but i ended up liking it before I got to that piece so I skipped it.
Results:
This is
so far
from what I usually wear. But I like it! It can be worn in different ways - casual or dressy, loose or tight.
It's ok for a first draft hopefully I can fix those
pointy bust darts
, before I wear this in public. then I'll make another one in black. I'm off to do some research on
Patternreview
.